Best Tacos in NYC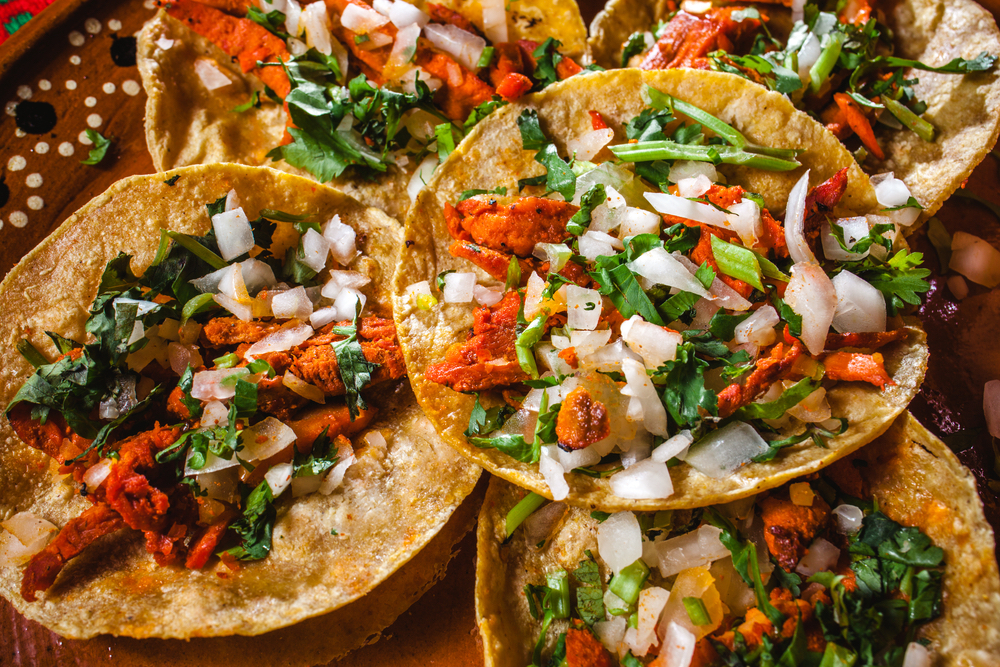 National Taco Day is Oct. 4, and this Mexican finger food that predates the Spanish conquest is so simple and versatile it's well worth celebrating. Perhaps Mexican-American writer Isabel Quintero breaks down the joy of tacos into U.S. terms the best: "Tacos are like what the voices of a hundred angels singing Bob Dyl an while sitting on rainbows and playing banjos would taste like if that sound were edible."
Here at The New Yorker Hotel we've compiled a list of the best tacos in town for you to enjoy.
Los Tacos No. 1
This counter-service taqueria is fast-paced and straight to the point. It's usually busy because it's so tasty — we recommend any of the tacos with carne adobada (if you like spicy), as well as the carne asada (grilled steak). You can choose either flour or corn tortilla (choose corn), and tacos come with guacamole, cheese, onions, cilantro and pico de gallo. Los Tacos No. 1 is maybe the busiest spot in Chelsea Market, and you eat your tacos standing, a la Mexican puesto style. Order at the counter and they'll hand you a ticket of your order, which you bring to the cooks to prepare your food. Great place for a quick bite and real taco experience. - 75 9th Ave. in the Chelsea Market
Los Mariscos
If you're hankering for fish tacos, this is the place. They serve the best fish tacos in the city. The batter is light and perfectly fried, pairing perfectly with a light beer or a margarita. The spicy shrimp taco is well worth tasting. This has more seating than Los Tacos and is a quaint little spot in the Chelsea Market. - 409 W 15th St. in the Chelsea Market
Empellón
If you're looking for a taco that is far from street-food, plan a dinner at Empellón. The two-story, refined restaurant doesn't stick to traditional Mexican plates — rather, founder and chef Alex Stupak plays with different ingredients and skills from different culinary bases, creating a unique menu. The restaurant has a smart cocktail menu with a good selection of tequila, and prices are on the expensive side. If you go, make sure to save room for dessert, because their in-house pastry chef doesn't mess around. The most bold and unique dessert on the menu is avocado served over eucalyptus yogurt with a dash of lime and olive oil. You'll never look at avocado the same way again. - 510 Madison Ave., Manhattan
Otto's Tacos
Located in Hell's Kitchen, Otto's is a great lunch spot. Three or four tacos will fill you up, and they're filled with full-flavored meat. We recommend the carnitas. Otto's is small, but service is fast and flavors are well-rounded. Try the masa fries and enjoy a Coca-Cola to make the meal complete. - 705 9th Ave., Hell's Kitchen
Toloáche
Toloáche is a flowering plant known for its use in love potions in Mexico, and it just so happens that this Upper East Side restaurant is a great place for a date. Toloáche is open daily for dinner and brunch/ lunch is available only on weekends. The tapas are on the small side, so we recommend going for the entrees, which is where the restaurant really shines. The meat is prepared with care, and all the sauces are smartly balanced. If it's good weather, we suggest you check out the patio for brunch and enjoy the scene. - 166 E 82nd St., Upper East Side
--
Planning a trip to the city? Check out our packages for special discounts and money-saving offers.