5 Things to Do This July 4th in NYC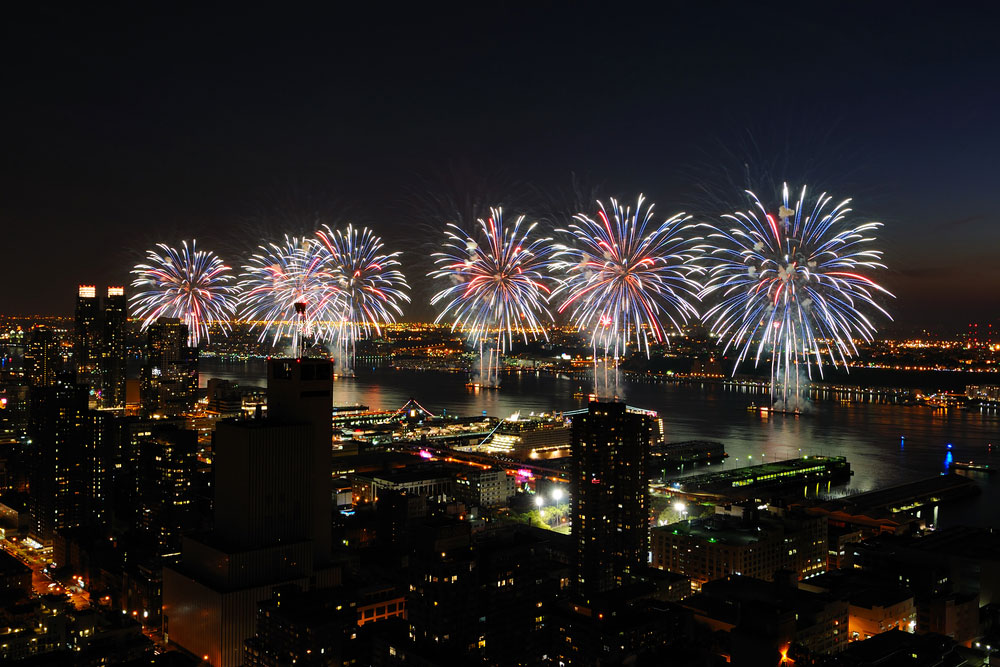 Next Tuesday it's the Fourth of July, aka American Independence Day. This is the day for grilling outdoors, lounging by the pool, and watching fireworks at night. And if you happen to be in New York City on America's birthday, you've picked a good place to be. There are tons of things to do on July 4th in the city. That said, here are the Fourth of July events in NYC that you can't miss:
Nathan's Famous Hot-Dog Eating Contest
A Fourth of July tradition, the
Nathan's Famous Hot Dog Eating Contest
is held every year at the original
Nathan's Famous Hot Dogs
on Coney Island. It's said the contest originated in 1916, when four immigrants arguing about who was more patriotic. To prove their patriotism, they challenged each other to a hot dog eating contest. Whether it's true or not, Nathan's has been officially organizing the event since 1972. Prepare to be amazed. Last year's winner ate 70 hot dogs in one sitting.
Getting there: Take the Q train (direction Coney Island) to the end of the line from 34th Street - Herald Square.
Midsummer Night Swing
A "less-traditional" NYC summer tradition is the
Midsummer Night Swing
at the Lincoln Center. For almost 30 years,
the Lincoln Center
has been throwing the best dance parties on the Upper West Side. And because this year Midsummer Night Swing falls on the holiday, this July 4th edition is especially American. Swing the night away to the tunes of Louis Armstrong, performed by NYC favorites
David Ostwald's Louis Armstrong Eternity Band
. Dance lessons start at 6:30 and the music gets going at 7:30.
Getting there: Take the 1 train from 34 St. - Penn Station (direction Van Cortlandt Park - 242 St.), to 66 St. - Lincoln Center.
Macy's Fourth of July Fireworks
It's not Fourth of July without fireworks. And when it comes to
fireworks on Fourth of July
, New York City does it best. That's because
Macy's
is behind the celebration. And it just so happens that The New Yorker has one of the best seats in town. Macy's launches the fireworks from barges on the East River between 24th and 41st Streets, and The New Yorker is located on 34th Street - right in the middle. Now, if you're looking to eat and drink while the fireworks are going on, check out our recent post on
NYC rooftop bars
.
Revolutionary War Walking Tour
For the history buffs,
Patriot Tours
are giving a special tour in honor of the 4th of July, in addition to their already popular
Revolutionary War tours of Manhattan
. Not only do they take you to different Revolutionary War sites throughout Manhattan, the 4th of July tour also includes firsthand descriptions of the events via original documents and prints, as well as insider information like detailed accounts of Washington's escape from the Battle of Long Island in the very place it happened.
Getting there: Take the A train from 34 St. - Penn Station (direction Far Rockaway - Mott Av.) to the Chambers Street Station
The Yankees vs. Blue Jays
What's more American than going to a baseball game on the 4th of July? Going to a
Yankee game
on the Fourth of July. Luckily,
the Yankees
are playing on home field this holiday against our northern neighbors, the Toronto Blue Jays. The game starts at 12 p.m. -
To get to Yankee Stadium from The New Yorker, take the D train from at 34 St - Herald Square Station (direction Norwood - 205 St) to 161 St - Yankee Stadium Station).
--
Planning a trip to the Big Apple? Check out our packages for special discounts and money-saving offers.