The Best Ice Cream Shops in NYC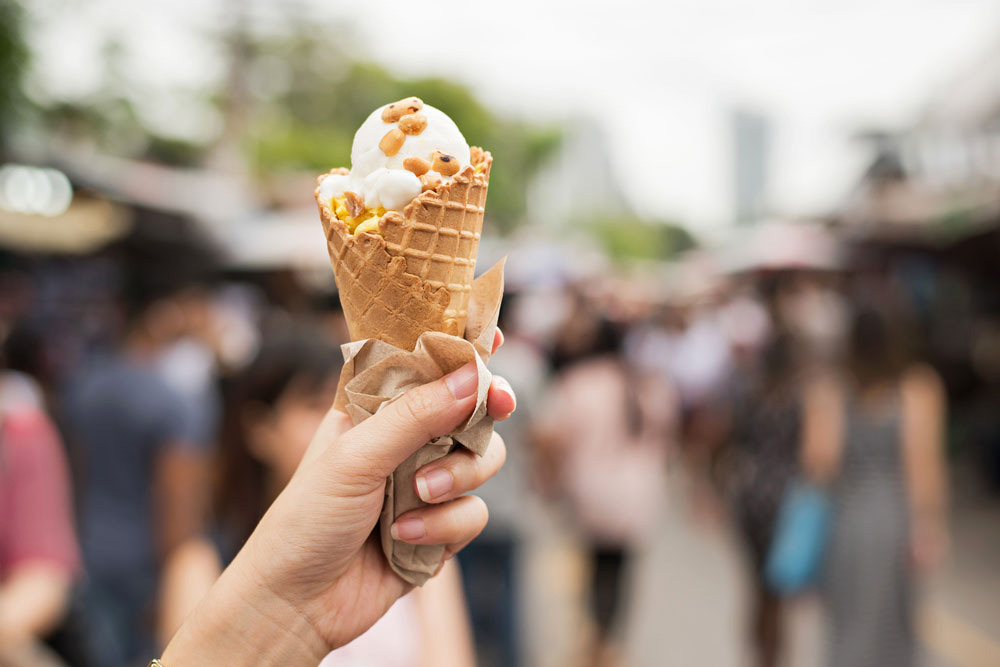 I scream, you scream, we all scream for ice cream. And the summer heat does have us screaming for ice cream. It's a must when it comes to summer, especially in a city like New York where we have everything under the sun. Here are our top recommendations for ice cream in the city.
Morgenstern's Finest Ice Cream
This ice cream shop has all the makings of an old-fashioned ice cream parlor - and some delicious ice cream to match. Walking into
Morgenstern's
is like walking back in time - the servers dressed in white, the iconic parlor counter, the ice cream in glass dishes - and then there's ice cream, which is easily one of the best in the city. Here the flavor Black Coconut Ash is a customer favorite, as well as the Burnt Honey Vanilla. But along with that popularity comes a line; be prepared to wait. -
Lower East Side, 2 Rivington St, New York, NY 10002
Mikey Likes It
We love this little shop on the Lower East Side. With each flavor based off his aunt's vanilla ice cream recipe, Mikey's ice cream at
Mikey Likes It
has that special homemade flavor reminiscent of trips to grandma's - aka the one you can find anywhere else. Even better are the names of his flavors, each with a pop culture reference - like Foxy Brown, a mix of mocha, chocolate wafer, and salted caramel, and Ice Ice Baby, with three different types of vanilla bean. -
Lower East Side, 199 Avenue A, New York, NY 10009
Milk Bar
Two words: Cereal Milk. This soft-serve is
Milk Bar's
claim to fame (that, and the fact that Milk is part of the
Momofuku
family). Nor is "cereal milk" just a name for Milk Bar's soft-serve. It does actually taste like the milk at the bottom of your cereal bowl, especially because this soft-serve comes with Cornflakes at the bottom and around the edges of the ice cream. Although Cereal Milk is one of the best ice creams out there, the rest of Milk's offerings are just as good. Make sure to try the Birthday Cake soft-serve and the crack pie, too. -
Midtown, 15 W 56th St, New York, NY 10019
Ice & Vice
If you're into experimental eats,
Ice & Vice
is your type of ice cream shop. Ice & Vice doesn't do standard. In fact, the most "standard"
flavors
you can find include flavors like "Basic B," mixing Mexican vanilla and black lava sea salt, and "9 am," with Vietnamese coffee and donut truffle - which aren't that standard at all. Otherwise, you'll get ingredients like toasted milk, tea leaf, and even chlorophyll. The surprising fact? They all taste good. -
Lower East Side, 221 E Broadway, New York, NY 10002
Chinatown Ice Cream Factory
Thirty years and counting is saying something in New York City. And that's how long
Chinatown Ice Cream Company
has been in business. Although they do make the usual flavors like chocolate and vanilla, the real reason everyone goes to Chinatown Ice Cream Factory is for their Asian flavors like pandan, taro, lychee, and black sesame. The Almond Cookie is especially good. Stop in during a trip to Chinatown. -
Chinatown, 65 Bayard Street, New York, NY 10013
--
Planning a trip to the Big Apple? Check out our packages for special discounts and money-saving offers.