Why We Love Herald Square, New York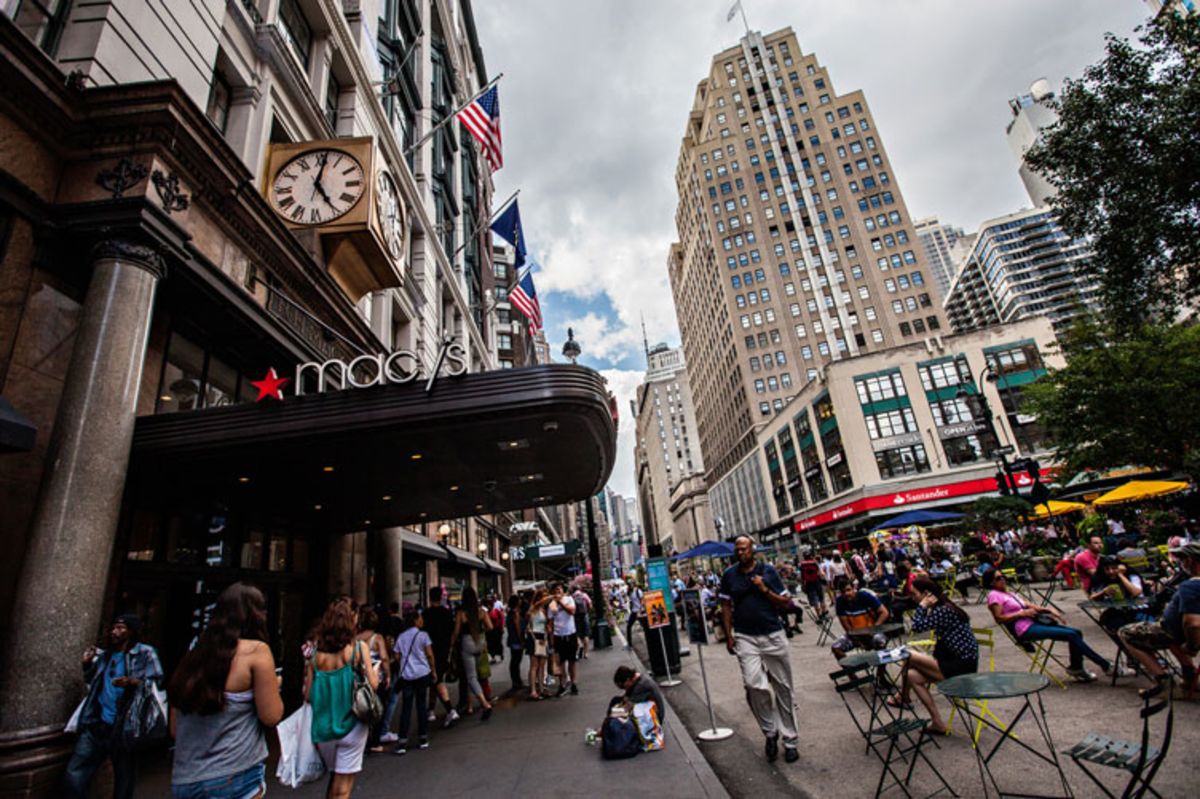 Synonymous to shopping, holiday season and department stores, Herald Square is one of New York's busiest neighborhoods. The New Yorker Hotel is located steps from this iconic intersection. Learn more about Herald Square's past, present and major attractions.
A Bit about Herald Square's History
Herald Square is located at the intersection of Broadway and 6th Avenue, between 35th Street and 32nd Street, including Greenley Park. Now that you know exactly where it is, have you ever wondered where the name Herald Square come from? You might be surprised to learn that it got its name from The New York Herald, a newspaper that ran from the mid 19th Century to the 60s. It was founded by James Gordon Bennett in 1835 and focused on sensational stories.
But the arrival of Macy's is what sealed this neighborhood's fate. Back in 1858, Rowland Hussey Macy opened a dry goods store at the corner of 14th Street and 6th Avenue. In 1902, the successful retailer moved to its current home in Herald Square and changed its surroundings forever.
If you want to read more about the days of old, explore The New Yorker Hotel's timeline and history blog posts.
Herald Square Today
Fast forwarding to the 21st Century, Herald Square is one of New York's busiest neighborhoods and business hubs. A quick Internet search will show you that this small section of New York holds a huge number of shops and restaurants, rivaling Times Square. But you can also relax. Penn Station and Greeley Square Park are great spots for people-watching or feeding pigeons.
Fun fact: In spite of Macy's influence, one property owner refused to sell their building to the department store. Today, you can see it at the corner of Broadway and 34th Street. It may be covered with Macy's ads, but it has managed to maintain its independence all these years!
Top Things to Do
Macy's Herald Square
Herald Square's main attraction is Macy's. Not only is this the largest store in the world, it's also responsible for some of the city's most popular holiday traditions. Come fall, the Macy's Thanksgiving Day Parade draws millions of visitors to the streets of New York. In winter, the store unveils its annual holiday window display, each year with a different theme.
Greeley Square Park
Named after Horace Greeley, founder of the New York Tribune and 1872 presidential candidate, Greeley Square Park is a tiny oasis in Midtown. Sit on one of the chairs with your shopping bags, have a bite next to Greeley's statue and get enviable views of the Empire State Building.
Nearby Attractions
Once you've exhausted your options, Go beyond Herald Square and explore Koreatown, Hudson Yards. Both neighborhoods are vibrant and offer superb dining and entertainment options for all tastes.
Read about more iconic New York stores at The New Yorker Hotel blog!