Why You Should Visit Hell's Kitchen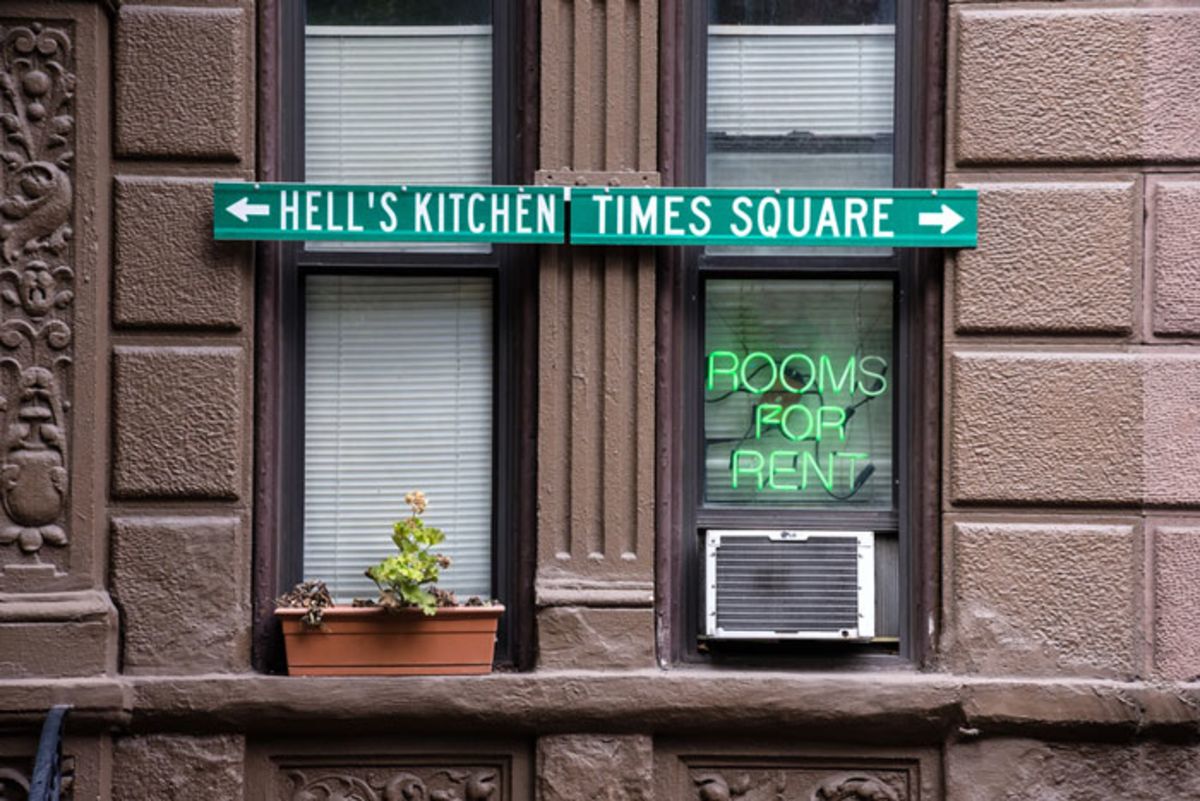 Don't let the name discourage you. Hell's Kitchen may have once been the shady back alley of the Theater District, but those days are long gone. Today, it's a good-sized neighborhood with international restaurants, great entertainment and easy access to the best of the Hudson River.
It Has an Interesting History
Once an unsafe and gritty neighborhood populated by poor Irish immigrants and their descendants, Hell's Kitchen earned its reputation. It's said that the name may have come from an infamous 1860s gang or may have been taken from an exchange between two policemen. Whatever the case, this was once a slum of Manhattan, spanning from Eighth Avenue to the Hudson River, and from about 59th Street to 34th Street. Luckily, since the 1980s the area has undergone a steady renaissance that transformed it into an up-and-coming district.
It's Great for Foodies
In spite of its dark past, Hell's Kitchen has evolved into a neighborhood with world-class restaurants with cuisine from all over the world. Some of the most popular eateries are:
- Pure Thai Cookhouse: Thai shophouse-style restaurant serving homemade noodles.
- Totto Ramen: Famous ramen, good for late-night dinner.
- Don Antonio: Naples-style pizzas.
- Pio Pio 8: Peruvian food, famous for its chicken.
- Bea: Stylish international cuisine with great cocktails.
- Rudy's Bar & Grill: Historic dive bar and popular neighborhood spot.
It's a Cultural Hub
Given that it's right next to the Theater District, Hell's Kitchen has become an important center for performing arts, culture and innovation. But its appeal goes beyond a popular Broadway show. It's home to the Alvin Ailey American Dance Theater, the Intrepid Sea, Air & Space Museum and the Javits Center. Most recently, Hell's Kitchen became the gateway to Hudson Yards, New York's newest attraction.
It's Has a Diverse and Eclectic Nightlife
Hell's Kitchen is part of Midtown, which means that this neighborhood most certainly never sleeps. In addition to being home to famous restaurants and bars, world-class venues and museums, it has a lively nightlife scene. Hell's Kitchen has become a favorite destination for the LGBTQIA+ community, providing an alternative to the classic Greenwich Village.
If we have convinced you to explore Hell's Kitchen, book your Midtown room at The New Yorker Hotel. We're within walking distance of every attraction and eatery mentioned here!